Fable Champs
Revolutionizing Sales:


The Scratchpad Story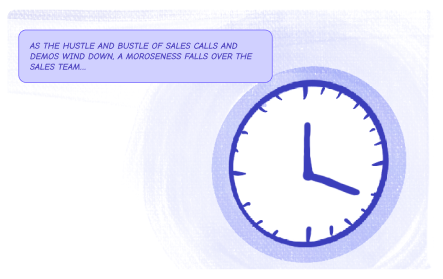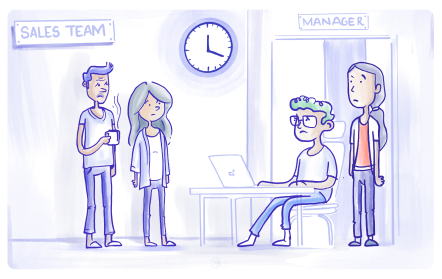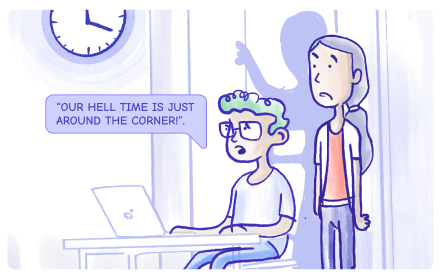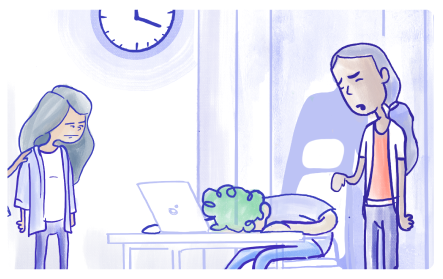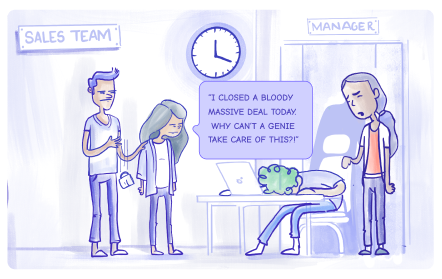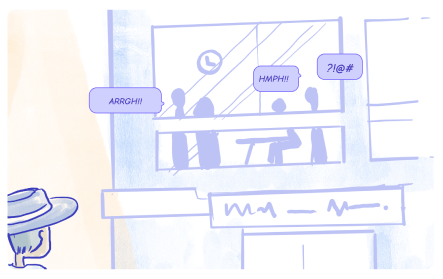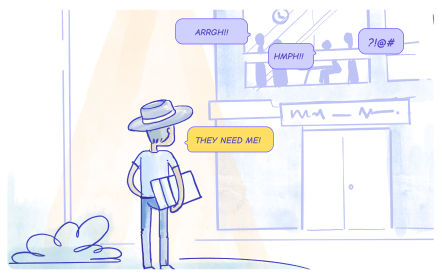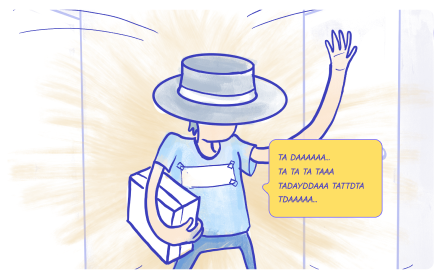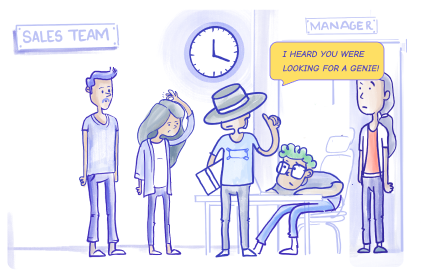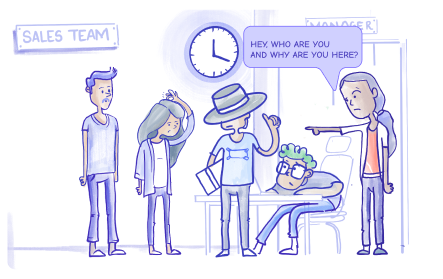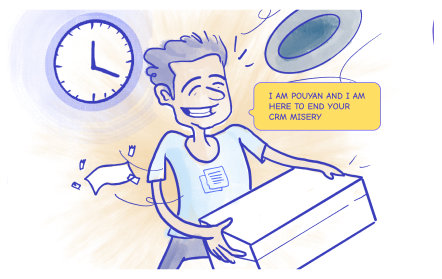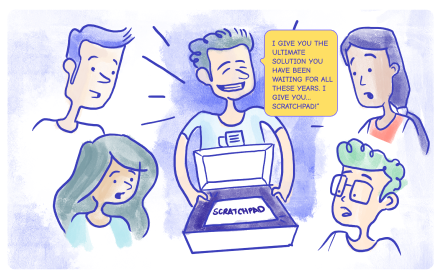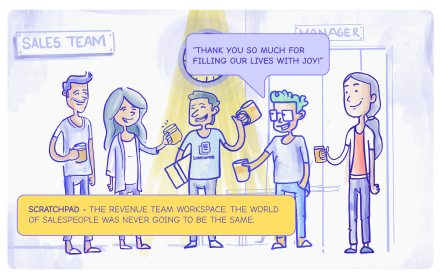 This is the remarkable fable of Scratchpad, the revolutionary tool that changed the lives of the millions of sales reps world wide!
Welcome to the first edition of FableChamps, where we uncover the growth stories of leading B2B SaaS companies worldwide. Get ready to be inspired as a take a deep dive into how Scratchpad transformed the sales landscape and supercharged productivity for business around the globe.
The state of sales folks
Salespeople have one of the toughest gigs around. They've got to hit revenue targets, cultivate relationships, spot new opportunities, predict pipeline, and a million other things. And if that wasn't bad enough, they're stuck dealing with clunky CRMs that require endless manual updates. It's no wonder that even the mighty Salesforce has a measly 35% adoption rate.
Enter Scratchpad
The game-changing solution that revolutionized sales and RevOps teams' work processes. Scratchpad offered a user-friendly platform that enabled revenue teams to manage all their work from one place. Salespeople worldwide were immediately drawn to Scratchpad's effective and user-friendly interface, making it an instant hit. Don't just take our word for it, the data speaks for itself!
DAU/MAU for their customers is around 40-50%
DAU/MAU for their top 10 customers reaches to as high as 70%.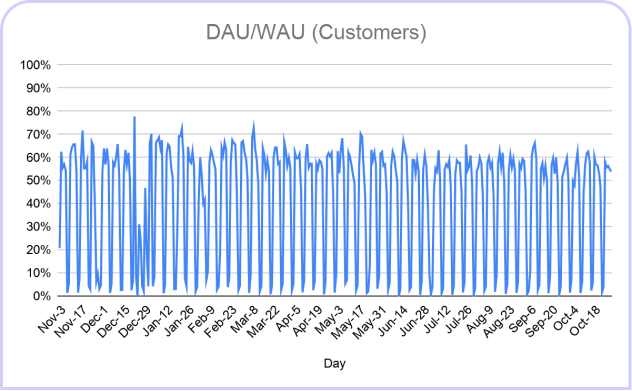 DAU/WAU (for customers) is 60%, meaning the average weekly user returns to the site 3 out of 5 workdays per week.
How did Scratchpad manage to make sales folks fall in love with it? Let's dig deeper. But before we do, let's take a trip down memory lane and see how it all begin.
The scratchpad fable
Once upon a time (okay, it was 2019), sales leaders and entrepreneurs Pouyan Salehi and Cyrus Karbassiyoon stumbled upon a massive problem plaguing salesfolks - CRM adoption, specifically Salesforce adoption. Despite being one of the most popular CRMs in the world, sales reps just weren't filling in the details in it. Instead, they had all their pipeline info scattered across random note-taking apps, spreadsheets, and task managers.

As a result, sales leadership didn't have the data they needed to create accurate forecasts, understand the state of the company's pipeline, or coach their team effectively. It was like trying to coach a sports team without knowing any of the players' stats. In other words, a hot mess.

Pouyan and Cyrus knew that creating just another tool wasn't going to cut it. They needed to build something that could transform CRM into an experience that sales reps would actually enjoy, making data updation feel like a breeze, not a chore. And so, Scratchpad came into being.

The dynamic duo knew it wouldn't be a success unless sales reps love the product and use it. So, they set out to get ten users to use and love Scratchpad in a quarter. They didn't quite hit their target, but they did find a passionate customer who used Scratchpad every single day. That was all the validation they needed. Scratchpad had found its north star — the product-user fit.
" We built Scratchpad because we believe that sales is a craft and that your time as a salesperson should be spent on things that matter, like moving deals forward and building customer relationships, not painstakingly updating records "
Pouyan Salehi
Scratchpad has come a long way since its inception, and today, it's one of the most sought-after platforms in the industry. With thousands of teams using their revolutionary product, the company has managed to raise a whopping $50M+ from some of the biggest investors in the game, including Craft Ventures and Accel Partners.

And if you're wondering how they did it, don't worry - we've got the exclusive scoop. Keep reading!
The formula behind scratchpad's triumph
Going Beyond Product-Market Fit and Finding Product-User Fit
Building a product that solves a problem is one thing, but building a product that users love is an entirely different ball game. The founder-duo knew that finding product-user fit was crucial to their success, and so they obsessed over empathizing with their persona.
" We knew that the majority of sales tools that existed failed because they just weren't adopted. So we obsessed over that. "
Pouyan Salehi
The team went on a 5-year journey building for salespeople and sales teams, deep-diving into understanding their persona, their problem, and their needs.

Their "wish page" is a good example of one of the initiatives they took to listen to their users. A wish page is essentially an integrated blank page in user workflow with a simple prompt: "What do you wish this page would do? Or, What do you wish this application would do?"

A user once wished for pizza and cookies on the wish page, and the team granted the wish! Talk about listening to your users!
Enterprise Freemium Sales Motion: Leveraging Bottom-up Adoption FTW
With its enterprise freemium sales motion, Scratchpad is tapping into enterprise budgets with SMB-like deal velocity. Crazy, isn't it?

Scratchpad's freemium offering facilitates rapid adoption amongst sales reps, and once they start using it, it becomes a habit and they get hooked.

What next? Others within the organization quickly follow suit. And with such a wide spread within an organization, Scratchpad can negotiate paid contracts with ease.

It's no surprise they've bagged big names like Autodesk, Brex, Front, ProductBoard, Sendoso, Snowflake, and Twilio with ease.
Customer experience
is the key

With the core belief that people should benefit from the product, the team at Scratchpad helps users every step of the way. Whether it's resolving user queries with lightning speed or taking feedback to make the product better, they're doing whatever it takes to delight customers.

They even offer 1:1 personalized onboarding sessions with their user delight team to all users! Yes, you read that right. ALL users, even those on the freemium plan. The team understands that users are too busy to figure things out on their own, and not knowing how the product can add value to their daily routine isn't going to drive adoption.
It's no wonder Scratchpad has a Net Promoter Score of 77 and a 9.7 rating for quality of support (industry average is 9.1). They're not just selling a product, they're selling success - and they're committed to making sure every user achieves it.
" This tool is the single most helpful tool I can use in a day. Not exaggerating. There are 100 tools that "work", but the usability of Scratchpad and the support of their team is the differentiator, so I can make my leadership happy and get to do more of what I want to do: solve customer problems with my team and close deals. "
Kevin. C, Account Executive
Getting the market right
How many B2B SaaS brands you know who got their narrative right? From right we mean brands that didn't just talk about features and benefits but had a point of view, a compelling story that resonated with their TG and marketed that well.
Scratchpad has done this very well. They have built a compelling narrative around how adding data to Salesforce is a pain for all salespeople and there has to be a simpler, better way.

And they are telling this story through creative campaigns, witty social media posts, informative podcasts and what not. With 67% of their traffic coming in as direct, we can say they are killing the brand awareness game like a pro!
So, how did they pull it off? We'll tell you. Just be warned: once you see how Scratchpad does it, you'll never be happy working on that blog post with the feature list. 😛
#1 Out-of-the-box campaigns with a strong narrative
Scratchpad is among the few new age B2B SaaS brands who are redefining SaaS marketing with their out-of-box campaigns.

Their Sales Protection Program is a wonderful example of how B2B marketers can come up with creative, fun ways to get their narrative across to their target audience.

The Sales Protection Program, is a compilation of five true stories from sales professionals who were impacted by the trauma of updating Salesforce. The entire campaign revolves around the theme that you don't have to endure this trauma and Scratchpad can help you get out of this.
Sales Protection Program: Witness 001
Brilliant, isn't it? Having a strong POV on the problem, building on the problem statement using real people, speaking in a language that their TG would completely understand, and executing an idea that will get attention. We loved this!
#2 Witty social media strategy
If you thought B2B SaaS brands can't let loose on social media, Scratchpad is here to prove you wrong! They're not just sticking to the industry's favourite, LinkedIn, oh no. They're shaking things up with their bold and engaging presence on Instagram and TikTok.

And it's not just some stuffy corporate account. Scratchpad is having fun with it. Their social media is colorful, lively, and entertaining. But don't let the fun fool you - they're still getting their message across loud and clear. Scratchpad knows how to be both serious and playful, and we can't help but love it. Case in point: Check out these hilarious memes that had us LOL-ing and nodding our heads at the same time!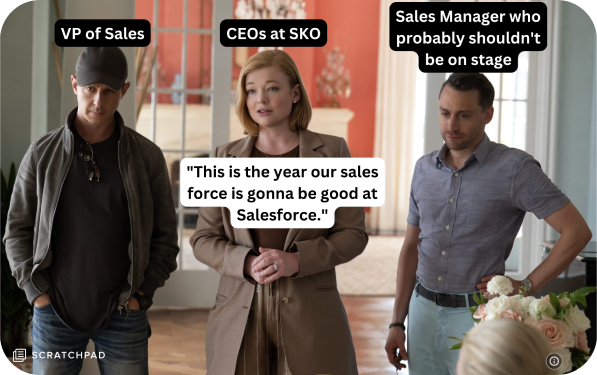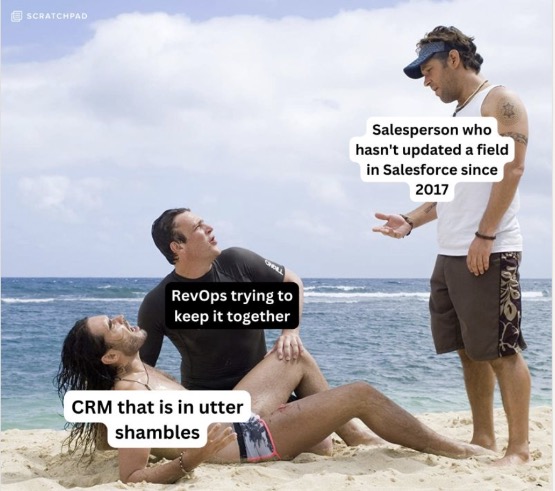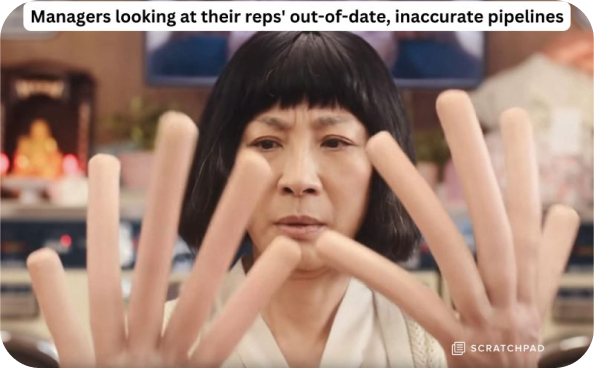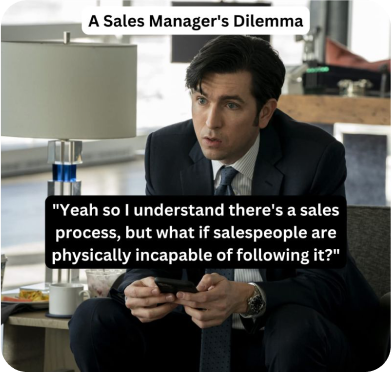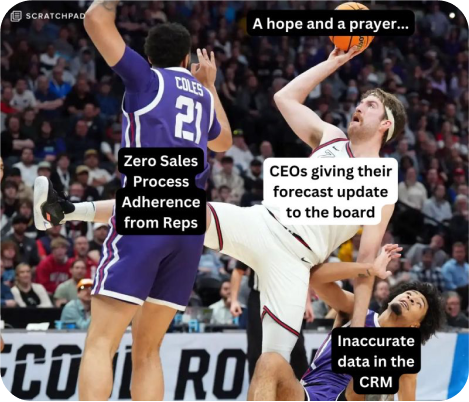 #3 Influencer marketing done right
By teaming up with big-shot content creators like Ross Pomerantz (you know, the Corporate Bro), Will Aitken, and Corporate Natalie, Scratchpad is slaying the content game.

They're not just settling for the same-old, same-old sponsored posts either. Scratchpad and their influencer partners are putting their heads together to create unique and creative content that's capturing the attention of their target audience like never before.

Need proof? Feast your eyes on these epic collabs they've cooked up.
#4 Thought Leadership through video series and podcasts
To establish thought leadership, Scratchpad hosts a video and podcast series - Beyond Quota. Hosted by Pouyan Salehi and Ross Pomerantz (Corporate Bro), it explores real stories from the sales trenches often edgy and sometimes controversial.

Each episode features guests who started their careers in sales and are now builders of companies, products, content, or have moved on to other careers. These engaging conversations are much loved by salespeople.
#5 Sponsoring relevant content shows: Sales Are Dope(S.A.D)
Sales Are Dope (S.A.D) is the new talk of the town! Sponsored by Scratchpad & Bravado and created by Ross Pomerantz and the team, this 8-episode series (91.5 min runtime) is dedicated to salespeople on the frontlines and was released recently.

The show was eagerly awaited by Sales folks and is a wonderful opportunity for Scratchpad to reach their TG and create brand awareness. Impressive!
Hats off to Nate Odell (VP of marketing), and the entire marketing team at Scratchpad for continually knocking it out of the park with their innovative marketing strategies.
From chaos to control: Transforming your sales Strategy with scratchpad
Scratchpad's success is one for the books. If you want your B2B SaaS business to scratch the surface of success as Scratchpad did, remember to put your customers first, find your product-user fit, think outside the box with marketing, and don't be afraid to try new things. Scratch that old way of doing things and embrace innovation!

Don't be like them 👇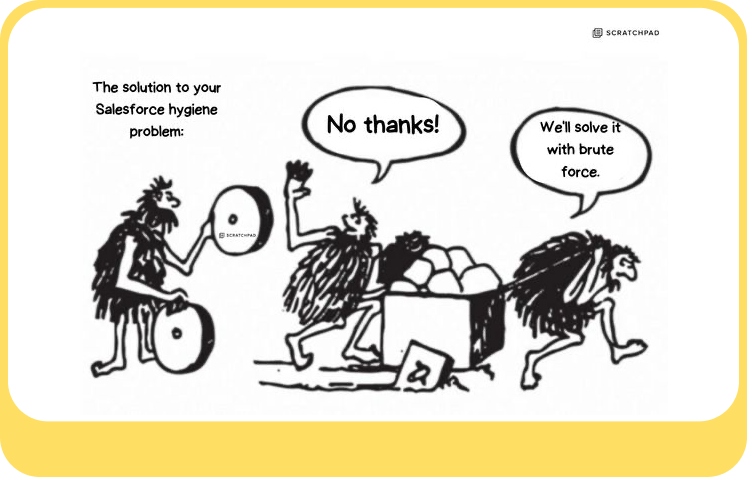 That's all for today, folks!

But our journey doesn't end here. There are still plenty of untold stories of innovation and success in the world of B2B SaaS. So stay tuned for the next edition, where we'll bring you another inspiring fable of a company that defied the odds and achieved greatness. So, keep pushing forward, and never stop scratching that itch for success!